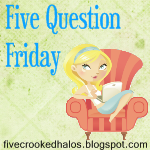 1. What is one food you could eat everyday?
hmmm... tough one! I'm not sure. I don't really have a super favorite but I would never go a single day without my morning coffee.

2. Are you working in the career you thought you would be when you were 18?
Nope, but I love what I do

3. What is something that you wish you would have done when you were younger and you didn't?
Travel more before we had children

4. What color are your kitchen walls?
A pretty goldish/yellowish kind of color (hard to describe)

5. Do you remember what your very first favorite song was?
yes, Karma Camelion by Culture Club
Happy Friday Everyone ~~~TGIF!!!!